Head of the Institution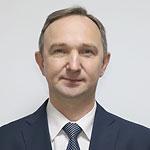 Rector
SERGEI V. KHARYTONCHYK
Associate Professor, Doctor of Science (Engineering)
Name of Institution:
Belarusian National Technical University
Foundation Date:
1920
Mailing Address:
Postal address: Belarus, 220013, Minsk, Nezavisimosty Ave., 65
How to get:
Visit address: Belarus, 220013, Minsk, Nezavisimosty Ave., 65
metro station Academy of Sciences
Phone number(s):
Press office
+375 17 331 01 15
+375 29 753 43 07
Fax(es):
+375 17 292 91 37
Web-site:
Facebook:
https://www.facebook.com/bntu.by/
E-mail:
bntu [at] bntu [dot] by
Faculties
Automotive and Tractor

Mining Engineering and Engineering Ecology

Mechanical Engineering

Mechanics and Technology

Marketing, Management and Entrepreneurship

Power Engineering

Information Technologies and Robotics

Management Technologies and Humanitarization

Engineering and Pedagogy

Power Plant Construction and Engineering Services

Architectural

Civil Engineering

Instrumentation Engineering

Transport Communications

Military and Technical

Sports and Technical

International Institute of Distance Education

Soligorsk (branch office)
Specialties for which you can get an education
Training process for international students is supported by the International Cooperation Department.
Duration of study at the BNTU is 5 years that includes learning a speciality (engineering qualification). After getting qualification a student can continue his/her education at Master courses with duration of 1 year.
Training at the University is carried out on terms of contract basis.
ATTENTION!!!
The admission of foreign citizens to the Preparatory Course, Courses of Russian languages, Msc. Course, Ph.D Course is carried out during the whole year.
International relations and main international actions
Living conditions for foreign students
Dormitory number 13
The hostel is a block type located at:
220013 Minsk, ul. Surganov, 47, building 5.
The number of places is 361. The hostel has 325 students from 25 countries who study at all faculties of the Belarusian National Technical University.
How to Apply
For invitation we need to get from you copies of education documents, passport and legalized translation of all these documents.
You will also be required Belarusian Entry Visa, original invitation and original education documents.
The documents for invitation you should send on fax +375 17 292-42-02, +375 17 292-91-37, e-mail: icd [at] bntu [dot] by, or to our address: 67, Nezavisimosty Ave., Minsk, Republic of Belarus, 220013
For arrival to Minsk you can use airline companies such as "Belavia", "Aeroflot", "Lufthansa" or other airlines with destination Moscow – Minsk.
Contact information for foreign candidates for training
Head of the Preparatory Training Office
Natallia B. Seledevskaya
Location: Nezavisimosty Ave, 67, office 135, 220013, Minsk, Belarus
Tel.: +375 17 292-44-41
E-mail: po-fms [at] bntu [dot] by
Cultural life