Head of the Institution
Professor Anna Nikolaevna Sender
Name of Institution:
Brest State A.S. Pushkin University
Foundation Date:
1945
Mailing Address:
box [at] brsu [dot] brest [dot] by
How to get:
21, Kosmonavtov Boulevard, 224016 Brest, the Republic of Belarus
Phone number(s):
(375-162) 21-65-17
Fax(es):
(375-162) 21-70-53
Web-site:
www.brsu.by
Facebook:
Skype:
E-mail:
box [at] brsu [dot] brest [dot] by
Faculties
Specialties for which you can get an education
Bachelor's Degree
Master's Degree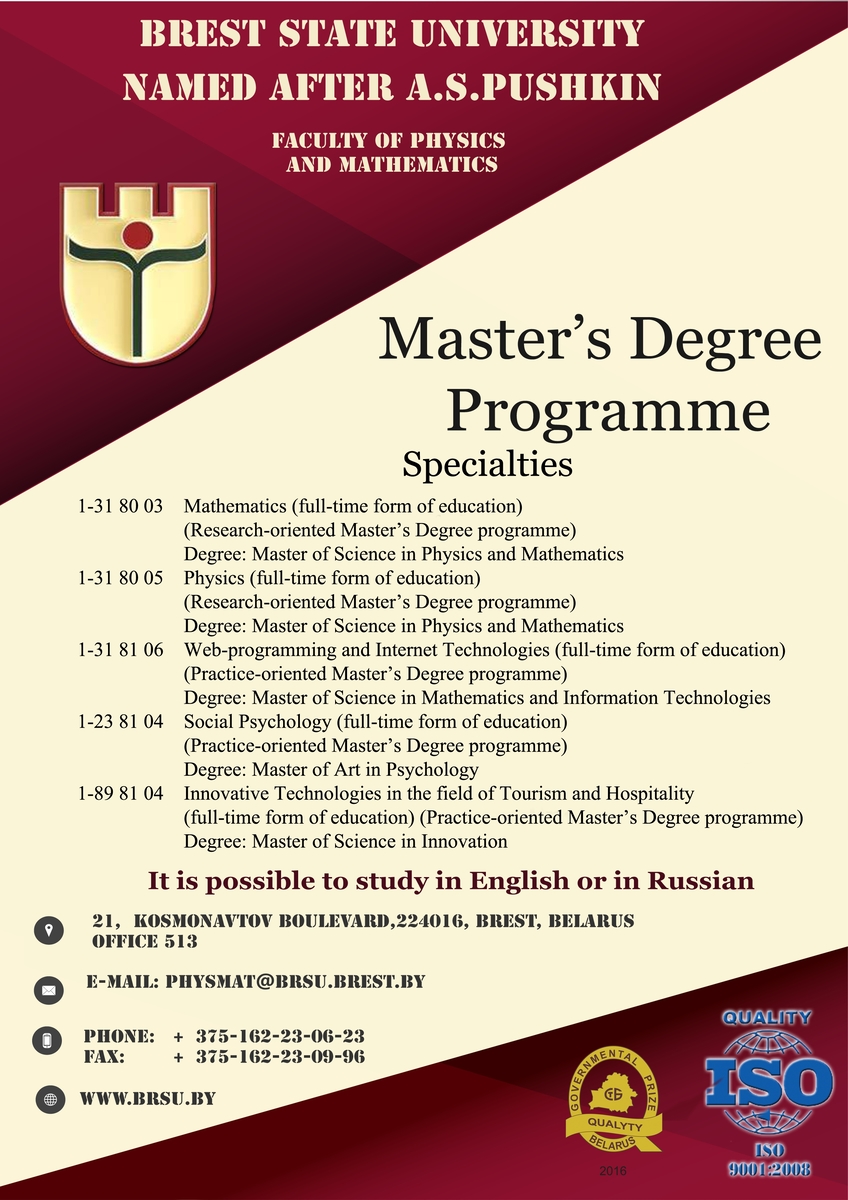 International relations and main international actions
Our university is well-known abroad due to its cooperation (teacher and student exchanges, joint scientific events and cultural projects) with numerous partner institutions of higher education in CIS and other countries: University of Education in Weingarten (Germany), Higher Pedagogical School in Kreuzlingen (Switzerland), Maria Skłodowska-Curie University in Lublin (Poland), East European National University after Lesya Ukrainka, Smolensk State Pedagogical University and Bryansk State University (Russia), the University of Xiaogan Province and Hohhot Vocational College (China), Catholic University of Leuven (Belgium), Budapest University (Hungary). International cooperation contributes to the training quality, providing university students with the opportunity to study abroad.
More than 500 foreign students from Turkmenistan, China, Kazakhstan, Turkey, South Korea, Azerbaijan, Germany, Poland, the USA, Ukraine, Lithuania, Uzbekistan and Russia study at the university.
The University participates in international projects "Erasmus+" and TEMPUS, cross-border cooperation Poland-Belarus-Ukraine.
In 2009 the title of Honorary Doctor of Brest State A.S. Pushkin University was awarded to professors Т. Hellbrügge (Munich International Academy of Rehabilitation, Germany) and M. Van Hulle (Catholic University of Leuven, Belgium), in 2011 this title was awarded to K. Rosenthal (Padeborn University, Germany)
Living conditions for foreign students
How to Apply
Contact information for foreign candidates for training
Cultural life